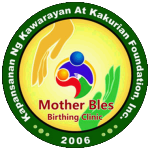 MOTHER BLES BIRTHING CLINICS:
A PRACTICAL APPROACH TO MATERNAL & CHILD CARE
As an advocate of health, Carlos Jericho "Icot" L. Petilla initiated various health programs even during his term as Governor of the Province of Leyte. Among these programs is the "Mother Bles Birthing Clinics".
This program is an innovative and practical PPP (Private Public Partnership) Approach to maternal and child health care, which Icot Petilla started in Leyte sometime in 2006 during his first term as Governor. This program ensures that the Philhealth benefits of birthing mothers are optimised and at the same time the revenues of the clinics are maximised. Moreover, the savings and revenues collected by the clinics under this program go to a fund which is later used to build more clinics, pay for the advance fees of midwives, support a midwifery scholarship program and other CSR (Corporate Social Responsibility) activities of the clinic.
The program was initially launched in 2 clinics in Leyte and it was duplicated in other provinces. In 2015, there are at least 26 clinics nationwide covered by this program.