Filipinos love movies. From Hollywood action-thrillers to local rom-coms, many of us try to watch them all whenever budget and time permit.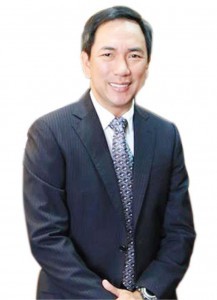 This is simply a reflection of our culture's innate romanticism. Movies fuel our imagination. It allows us to dream big.
Many believe that if properly harnessed, movies could actually help propel the nation forward. Former Department Of Energy Secretary Carlos Jericho L. Petilla is among those who think so.
"I was among those who watched the hit film 'Heneral Luna.' It was good,  both entertaining and informative. It made people think. I myself realize, we should have more of this kind of films; films that are powerful and relevant to current times," he shared.
Petilla is a huge fan of local films, trying to catch one whenever he can.
A film he enjoyed watching with his family is the Metro Manila Film Festival (MMFF) 2015 entry "Walang Forever" starring Jennylyn Mercado and his namesake Jericho Rosales.
"I admire Jericho Rosales not because we share the same name but because he is good at what he does. He is a very talented and very passionate actor…"
Petilla believes in forever, having found one in his wife, Anne, whom, he pointed out, shares the name of his favorite actress, Anne Curtis.
"I like Anne Curtis because she is so versatile. She's quite talented," he said.
Petilla believes government should be more active in helping the local movie industry produce more quality films. He said this will be one of his priorities if elected senator.
"I would like to push for legislation that would help our local film industry to grow and develop," he said, noting he would also propel the creation of an expanded film festival that would cover other provinces and not just Metro Manila.
He added government should also help subsidize films that compete in international film festivals.
He credits his parents, former Leyte Governor Leopoldo E. Petilla and current Palo, Leyte Mayor Remedios "Matin" Petilla, for his nurturing nature.
"The principles and values they taught me guide me in making important decisions. Every time I make a decision, it should be something that is consistent with my principles and values," he said.
Source: Manila Bulletin